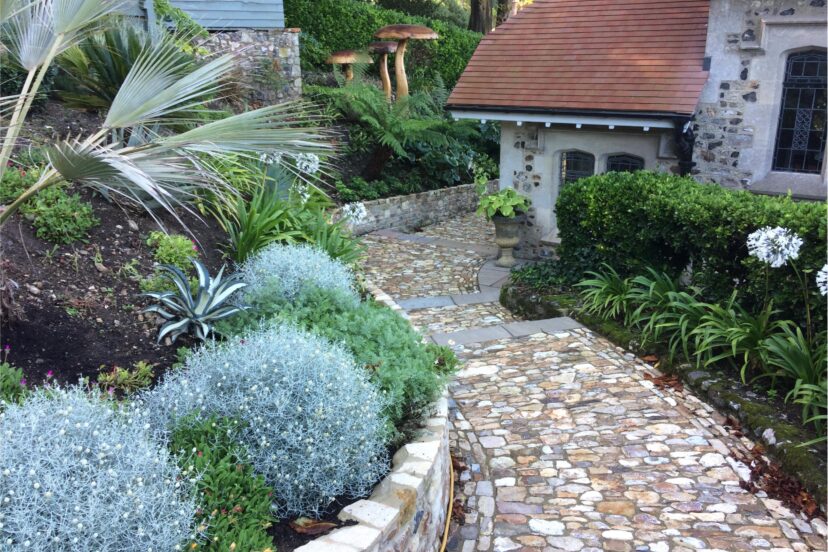 WW1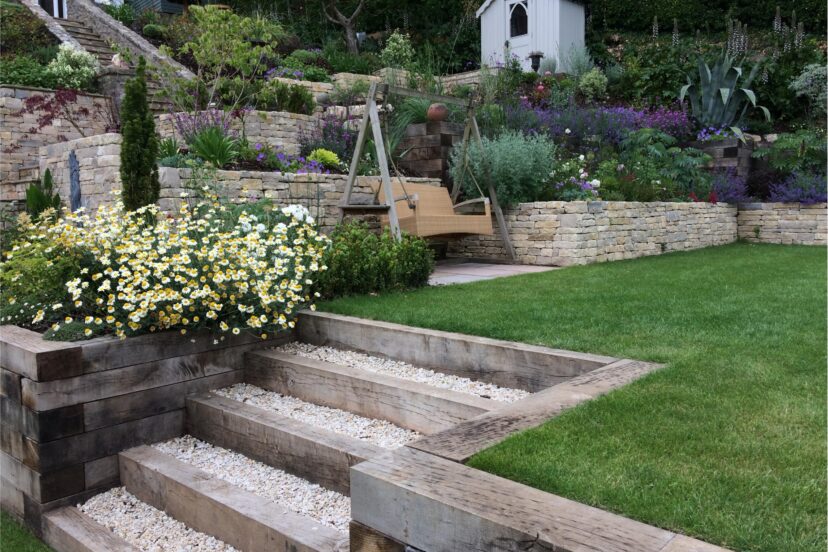 WW3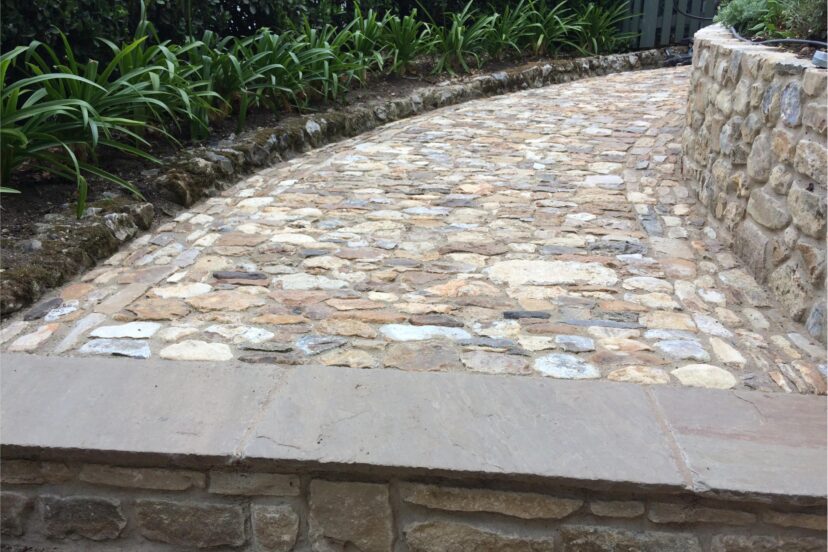 WW4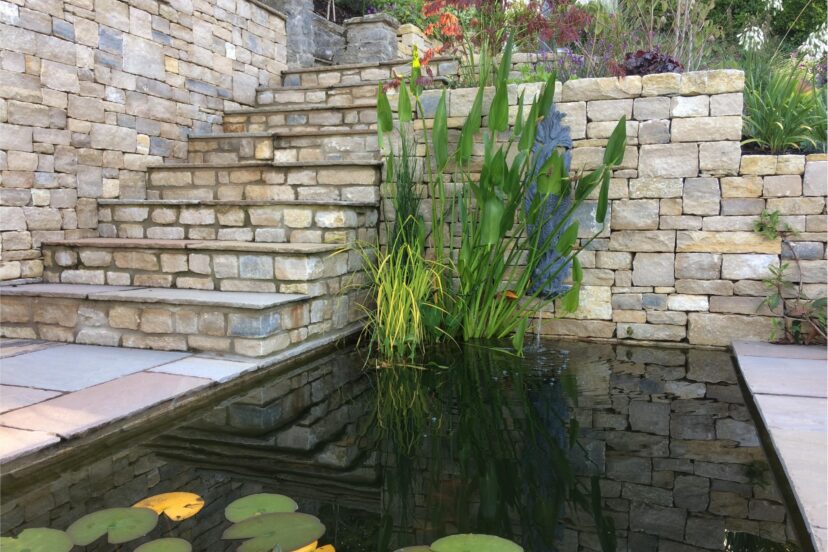 WW5
WW6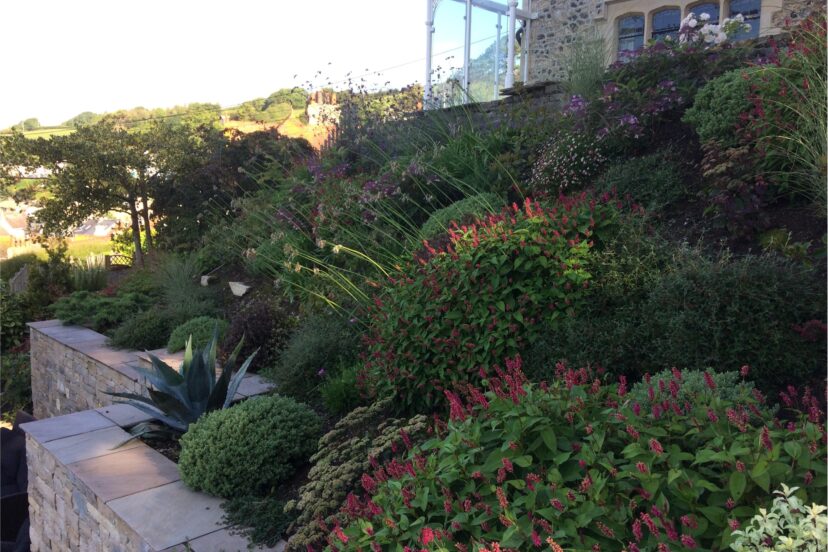 WW7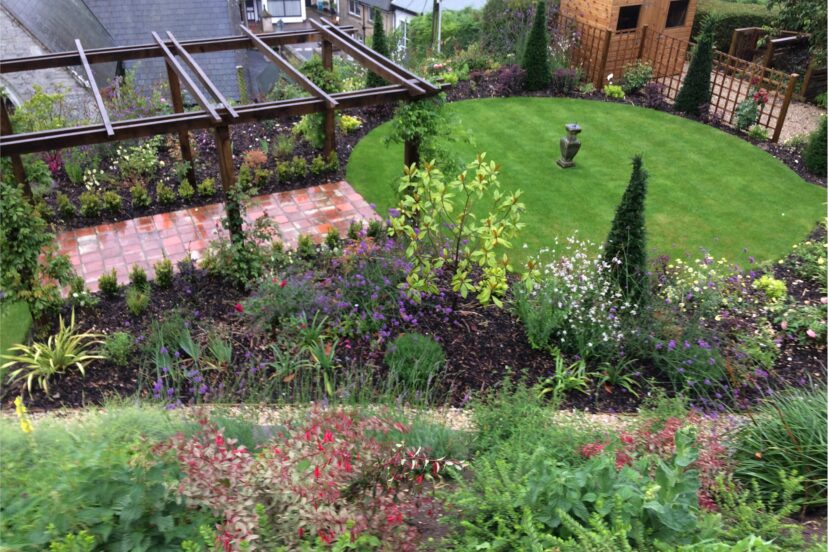 WW8
WW9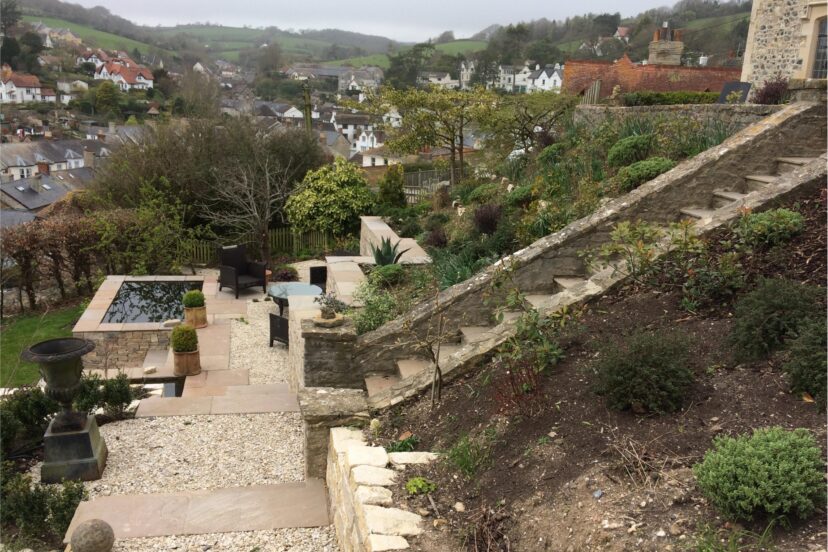 WW9a
Beer - Terraced Garden
St Micheals Mount - Beer – East Devon
An important and imposing Arts and Crafts House set in a conservation area in substantial grounds overooking the sea and town.
The garden was virtually unnavigable due the steeply sloping landscape. Penny Pritchard, one of Tony Benger Landscapings inhouse designers, took the brief to make an ornamental garden, that incorporated terraces, level lawns, a formal water feature, and focal points.
The garden has commanding views of the coast and one challenge was to orientate the garden and it's viewing points to take advantage of its aspect. The steepness of the site posed the challenge of how to access and move around the site safely with heavy machinery, and how to effectively get materials in and out.
Extensive cropped, Purbeck faced retaining walls bring natural warm honey colours into the garden. Flights of stone steps and paths lead from the top patio to a tranquil seating terrace of tumbled sandstone and south cerney gravel overlooking two large deep "infinity"pools with water being recycled through ornamental fountains. This whole area is flanked with mixed planting of Agapanthus, Pittosporum"Tom Thumb",Hebe pinguifolia sutherlandii,Melianthus major, rosa bonica miscanhtus "klein fontain" , erigeron and thymes all adding to the overall meditteranen theme.
The garden extends onto 2 level lawn areas retained with oak sleeper walls and then a grass path leads through wildflower punctuated with fruit trees dropping down onto a lower level complete with hand built Welsh slate pots, oak pergola and reclaimed clay tiled walkway.
Further variation is provided at the top of the garden with natural flint cobbled pathways. These pathways drop down to the house and beyond and the planting varies from agaves to dicksonias!
The client is delighted with the garden. He now talks enthusiastically about gardening and horticulture and is taking a leading roll in the ongoing maintenance which we are providing.
Tony Benger Landscaping are quietly confident that this show case garden will win a BALI award next year. We are so pleased with the quality of the build, and the realisation of a fantastic design.
Read more...