What's New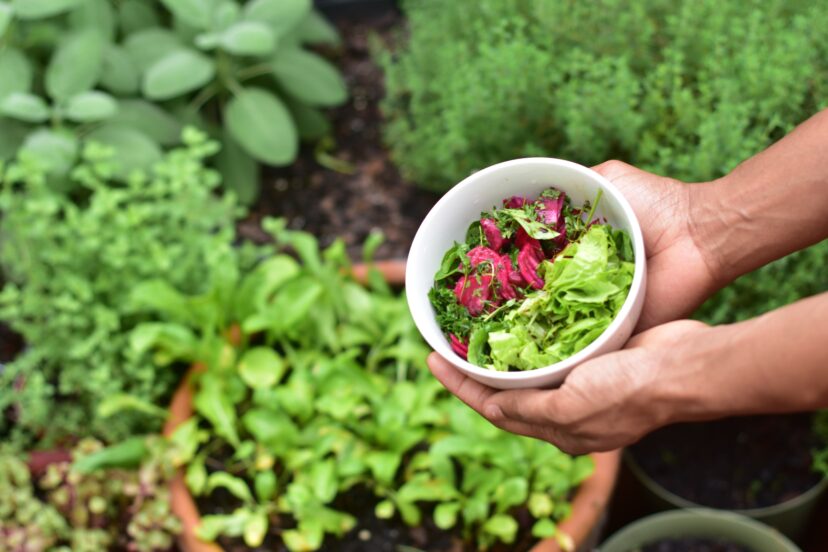 5 of our favourite tips and tricks for any level of Veg Grower!
5 Simple Ways to Keep Your Vegetable Garden Productive (DIY)
So much in our worlds is changing, when we should all be spending our long evenings in the beer gardens with our friends, we are now having distanced BBQ's over our neighbour's fences and getting dressed up to take the wheelie bins out. We adapt quickly, and instead of stressing about how to buy pasta and toilet paper at the supermarket, we look for ways to be a little more independent.
'Grow Your Own' vegetables is our current favourite trend. If it be the tomato plant that your kid brings home from school or you have been sowing your artichokes already, every little helps. As for some of us growing herbs and veggies is unfamiliar, we have listed 5 of our favourite tips and tricks for any level of Veg Grower!
Improve your soil:
The better your soil, the higher your luck in producing lots of veg. The reason why raised beds are so often used for veg beds is that the same soil that has grown your Hebes or Pittosporum just will not cut it for your veggies and raised beds are literally and figuratively, full of higher quality compost. A good compost with a balance of NPK (Nitrogen, Phosphorus and Potassium) is the foundation for any crop production. Take a look at the back of your compost bags and seed packets and play a game of match pairs. High levels of Nitrogen will be great for your Cabbages, Rhubarb and Brussels Sprouts. Your Lower nitrogen compost can be put in the bed with your Carrots, Radish and Onions.
If spending your weekend shovelling compost isn't your idea of heaven; then never fear! What about using legumes, these plants have special bacteria in their root nodules that can take Nitrogen from the tiny air particles in the soil and convert them to ammonia which begins the chemical reaction of the Nitrogen cycle. This can be another way that home-schooling may be a little less arduous for all parents out there! Ask your kids to find out why the veg bed of broad beans doesn't need as much soil TLC??
If broad beans aren't your only leguminous plants, vetch and clover will also fix nitrogen. When grown on mass in the off-season, they can add nutrients while protecting your beds from weeds, reduce erosion and provide green coverage when our veg beds often look like a mouldy carpet!
Squeeze them in!
Who says you need a dedicated space just for your veg. Herbs like Rosemary and Fennel have been used within our ornamental planting for years, why isn't this the same with our brassicas and root vegetables? It under-plants your flower beds keeping the weeds at bay as well as adds a new texture and colour to our outdoor space. However, if you do have a specific veg bed, then don't forget to stagger your rows! This can fit those extra few seedlings in your bed. The more you start with, the higher the hope that you won't repeat last year's veg crops of a single very lonely potato!
Get Nerdy!
The more you plan your veg beds, the less work they may begin to feel. Maybe plan when you are going to seed what, much like having a routine for watering your house plants. Setting aside TLC time can make a big difference. After all, it can be a nice family project; dividing up individual duties for each family member, buying your veg bed a calendar or setting up reminders on your phone. Keep everyone involved! Leave a veg bed for 2 weeks and you will be surprised how much weeding you have to do and how much the pigeons and mice have helped themselves to your dinner. It may be a labour, but certainly, a labour of love when at the end of the day you can sit with a glass of Pimm's with homegrown strawberries and mint garnish!
If you feel like you still need to exercise your brain muscles even after you have colour coded and diarised your veg planting schedule, then don't forget how much reading material the internet holds. Scientific journal and universities are constantly publishing experiments in ways to improve the environment and the productivity of plant growth. Studies in Africa are looking at planting milkweed amongst crops to reduce aphid infection. Fennel can even be grown in soil full of pollutes to uptake the heavy metals leaving the soil clean for agricultural use! Even if this doesn't sound interesting, you could always use it to bore yourself to sleep as self-isolation is ruining all of our sleep schedules anyway.
Keep it light and airy!
Soil for your veggies needs to seem more like a fluffy cloud than the one is in the rest of our garden beds. This can be done relatively easily by not walking across the area and by turning and aerating your soil with a fork whenever the opportunity allows. Just like with the legumes, the air in the soil kickstarts many biological processes and allows you dig away at your vegetables without breaking your back.
Air circulation around your plants is also very important, the more aired flow, the stronger and more resistant your plants are to wind damage as well as mould or sooty mildew. The constant airflow makes it harder for pesky bugs to hold on. Fruit particularly benefits from this!
Keep it clean!
To prevent the continued spread of pest and diseases, keep your veg bed clean! Don't leave infected plant material, even if it is dead, left on the ground. Remember to reduce, reuse and recycle. The composting process will kill most pests and diseases. Yet, if you still have some pest problems and are putting off climbing into your hazmat suit and spraying, why not to try companion planting? Some species are naturally gifted in deterring pests. Onions planted beside carrots will help deter carrot flies that have sensitive noses to strong smells. A great example of this is also planting mint leaves near your spinach to deter insect pests.
We hope you find these tips useful and let us know about your progress! However, if DIY gardening is not your cup of tea and you rather have more in depth advise and professional help creating and maintaining your vegetable garden, please do not hesitate to email emily@tonybenger.com or ring us on 01404 831844.
Read more...