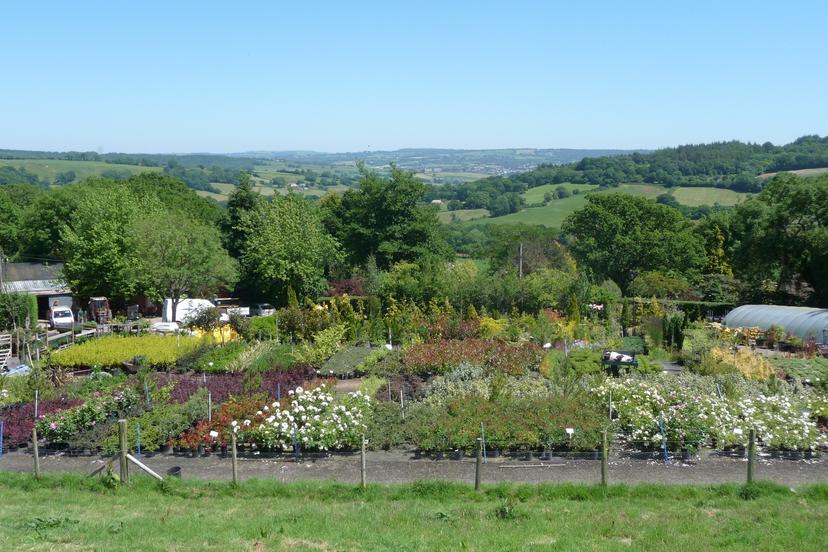 nursery
Trees, Shrubs and Herbaceous Plants
Price available on request.
Our on-site nursery is well stocked with a range of trees, shrubs and herbaceous plants for you to choose from. Please note local delivery of bulk materials can be arranged. A charge of £12 will be made for bulk loading of materials.
The 3 guys you sent out doing tree work for us were fantastic.
They were polite caring and careful.
If all people were like that the world would be a better place.
My first task (even before I pour myself a glass of wine!) is to say thank
you, the garden just looks so wonderful. Completely thrilled this end and I
am going to devote my summer to nurturing all the little treasures (well not
really, the gardener may be best at that).
Thank you so much.
Thank you so much for organising this - it really is a super job and you were
absolutely right about Nick being the perfect person to do it.
It was a pleasure to deal with him - nothing was too much trouble.
And the workmanship in the raised beds is impressive.
To say I'm pleased is an understatement. Without doubt [my husband] would be delighted that you have looked after me so well.
Very many thanks again
We would just like to say that we are very pleased with how the garden has turned out and look forward
to seeing it develop over the forthcoming years. Thank you to you and all your staff.
Many thanks
Just wanted to say a big thank you for the work today.
The lads were excellent and very polite, a credit to your firm to be fair.
We just wanted to drop you a line to thank you for our lovely new back garden - please pass on our thanks to Tony & Fabian too. We absolutely love it and christened it the first weekend with a bbq!
Thank you and all your men for the amazing job you did for me today.
It was such a pleasure to have such nice young men working for me.
They never stopped & no bad language - just politeness. I am very impressed. The work is exactly what I wanted.
Thank you again.
I just wanted to thank you and your team for hosting me on Friday, they are a great bunch of guys and were really friendly.
I can now tell you that the area I am researching is the level of awareness within the industry of root flare depth.
I was really pleased to find that you and your team are fully aware of the importance of planting at the right depth so that's great and please keep doing that!
Your guys seemed very conscientious and to genuinely care about the trees they look after and your nursery was doing its job right too.
I am so delighted with the work. Jerry was absolutely the right guy. And the various other lads have been great as well. And I am so glad Penny suggested the grass! I am looking forward to seeing the plants settle in and grow. Lovely!
I am very pleased indeed with the finished deck and think that it will be a real enhancement to summer living [here]. Thank you to the whole team who were wonderful.
Many thanks
Thank you so very much - you have made us all so happy - we haven't sat in the house since you finished the garden!
- Eve, Geoff, Rebecca & Will
We would like to say how much we appreciate the work done by Richard and Tom on what has been a very challenging project.
There were both a pleasure to interact with and they left the garden surrounds better than they found them.
They are both clean and methodical workers with a good knowledge of their trade.
Their work gives us so much more usable space on a site that has very steep access.
We would welcome them back for any future work
I want to say how pleased I am with everything so far. Gerry and his landscape guys are brilliant, and so is Dave. Their care and professionalism is terrific. I am so impressed!
Thanks a lot
Just wanted to say thank you to the two guys who laid out turf yesterday. Really pleased with he outcome - a first class job!
I would like to take this opportunity to thank all the workers for their time and patience on the job - which was at times quite taxing. Dan, Tony and the other two lads were always professional and hard working often staying long hours to finish a phase of the job. They never 'slacked' and I at no time felt the need to check up on them. Really dedicated, cheerful and hardworking.
Carl who oversaw all the works obviously from start to finish was second to none. Seemed to care so much about the job would come with ideas the next day after having worked late the day before- popped round whenever we had concerns - without hesitation. He showed such patience and understanding throughout.
I would definitely use Tony Benger Landscaping if we do further works and am recommending the whole team whenever the topic arises!
Your chaps were so good and worked really hard to get the job done with no access, fierce dogs and even fiercer weather. And more to the point, they made no mess at all. Brilliant.
Bengers are the best!
Your team has just completed some remedial work on the drainage to our back garden and we would like to record our thanks for the excellent job Tony and Fabian have done over the last 3 days. It's lovely to see the garden looking tip-top again and we are delighted with the new patio and turfing.
I wanted to say thank you so much for all your input with the garden problems, your lovely guys have worked so hard today and have completed a grand job, they were a pleasure to meet and great credit to your company. Many thanks and Happy Christmas
We recently had our turf re-laid by your team, who were awesome!
I'd like to thank you and your team for the work that they've done on our rear garden. All of the men worked constantly over the four days and did a professional job.
I would like to thank you and your team for a wonderful job. I can now enjoy my garden with my husband and family.
I am very pleased with the end result of all the work undertaken and would reiterate how polite and helpful all of the men were, working a lot of the time in foul weather conditions. They were a credit to Tony Benger Landscaping and Bailhache
"I also wanted to let you know that the look of the Orleigh Cross estate has improved hugely since Bengers won back the garden maintenance: it all looks altogether tidier and healthier."
I just wanted to say what a great job Dave and his team did last week on the wild flower banks. It's good to give praise and perhaps you'll pass this on to him
Don't put our prices up though!
We are delighted with the garden!
It looks fantastic and has given Mum a noticeable boost.
Please pass on my thanks to your team & especially to Penny.
Please could you send a quotation & insurance liability details to maintain the grounds for the year commencing Feb 2018 as it is due for renewal, also please pass thanks onto Dave for his continued commitment in keeping the grounds well maintained.
Many Thanks.
Thank you very much for sorting out our gravel areas and drive - we are very pleased to be looking presentable again, and you have been a pleasure to do business with.
I just wanted to say what a fabulous job the guys are doing reducing the hedgerows around Cranbrook. It is great to see some traditional laying down of the hedges which have been completed very sympathetically before birds start nesting. Give it a few years and these hedges will grow and thicken up and be a haven for birds again.
Well done to all.
Andrew is, as always, superb, I am always amazed at the amount of work he does in a day, more than I'd manage in a month, and always with such care.
We are really pleased with the work Jerry has done on the pond. It has had a new lease of life and hopefully the frogs and newts won't have been too disrupted. It's looking really good.
Tony, many thanks. We are thrilled with the result!
Read more...